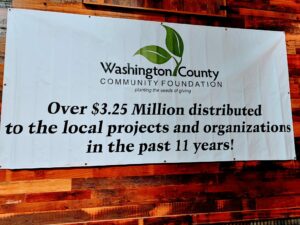 Ways to Give
Cash Gifts
The easiest, fastest way to make a donation is a cash gift. You may designate your gift to a local charity on our eligible organizations list, or make an undesignated gift to the Foundation. Checks should be made to the Washington County Community Foundation and earmarked for the organization of your choice.
Undesignated gifts are used in our Community Grants program which distributes funds to a variety of local charities based on the greatest need at the time and greatest impact on the community.
You may also make your gift online with a credit card here.
Non-Cash Gifts
Greater tax benefits may be found in donating non-cash gifts. Donations may include appreciated assets such as property or investments. It's important that such assets be transferred directly to the Foundation, not sold. This way, you receive the full value of the assets as a deduction and pay no capital gains tax — a double tax benefit. Consult your tax advisor to see if this is a better option.
Legacy Gifts
Make one of the greatest statements of generosity possible through a legacy gift. It means that you are committing a portion of the wealth you have created over a lifetime to give back and be used to benefit your community for generations to come.
Legacy gifts (estate or planned gifts) can be either cash or non-cash assets. A will is necessary, so we urge you to have your attorney work with the Foundation to maximize the benefits to the community, your family and estate.
Donor Advised Funds
You may find valuable tax benefits to creating a donor advised fund. It allows you to make a significant donation all at once to the Foundation, then dole out portions over time to charitable organizations as you may advise.
It's a great way to watch the impact of your generosity over your lifetime, to support your charities through a third party, to provide scholarships, or to build your own endowment that can benefit generations ahead.
Designated Funds
Organizations may use the Foundation to create charitable funds for sustainability and fundraising. The Foundation's successful experience, independence, tax exempt status, and minimal investment fees in managing charitable funds can be significant benefits in attracting dollars.
Funds currently under the Foundation's management include the Blair Area Law Enforcement Fund, Blair Public Library Foundation Sustainability Fund, Hearts for Herman Fund, Blair Trails Fund, Veterans Tribute Plaza Fund, and others.