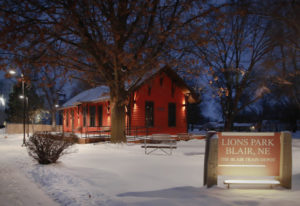 Our History
It's about generosity. The Washington County Community Foundation began in 1998 to help donors make their generosity go further. It provided the means to make tax-deductible contributions toward charitable causes throughout Washington County.
It's about creating a culture. The Foundation was also established to promote awareness of local charitable organizations and to educate the public on the real benefits of charitable giving.
It's about good works. Our Community Grant Program began in 2001. Unrestricted gifts to the Foundation were pooled to provide grants to local organizations through an application and review process. This program continues yet today, providing tens of thousands of dollars annually for local charitable projects.
It's about a legacy of giving. In 2003 the Foundation received its first estate gift. This became the initial seed for our Endowment Fund, whose earnings will benefit the community for decades to come.
It's about collaboration. Donors have chosen the Foundation to establish designated funds to benefit their charitable interests. Such funds include scholarships, the Blair Public Library, Veterans Tribute Plaza, Black Elk-Neihardt Park, memorial funds, and numerous others.
It's about community involvement. Local corporations have used the Foundation for their charitable giving. The Foundation partners with them to make employees aware of charitable opportunities and distributes the funds raised to designated organizations.
Our Goal
It's about doing more. In 2011 the Foundation adopted a strategic plan to expand its role in local charitable giving.
It's about sustainability. The focus is to grow our Endowment Fund to a point where its earnings will provide $1 million each year to benefit charitable projects that enhance the quality of life in our local communities. As a result of this plan, the Foundation hired a Director of Development to advance its goals through donor recruitment, public education, and outreach activities.
It's about creating a vision. Achieving our goals will enable the Foundation to take the lead in donating to major projects as well as growing our Community Grants to benefit even more organizations.
It's about planting the seeds of giving. These endowment funds will come primarily from legacy (planned or estate) gifts. We urge donors to consider designating a portion of their estates to the Foundation as a way to give back to their community for generations to come.
Why We Do This
It's about quality of life. We firmly believe that the special quality of life we enjoy in Washington County, Nebraska, is the direct result of non-profit, charitable organizations. They shape the character of our communities. They make us who we are.
The arts, education, local history, health care, wildlife preservation, youth development, feeding the poor, parks, community safety — these causes and more are served by our local charities. And that is who the Foundation serves.
Our Board of Directors
It's about passion. The Foundation is fortunate to have a board that is passionate about our home towns and are willing to give time as volunteers to our efforts. Members include:
Milt Heinrich, Board President 2022-2023
Dick Wardell
Darrell Logemann
Mary Jean Rahlfs, Board Secretary
Brad Taylor
Keith Hartvigsen
Ray Russin
Emily Petersen
Chris Bilau, Vice President
Lizz Abrahams
Joel Bacon
Ryan Palmer
Jane Gilbert
Liz Sevcik
Gary Lambrecht
Loren Havekost, Board Treasurer
Mark Rhoades
As a matter of public transparency, our tax-exempt IRS return (Form 990) is available for public inspection. Click on this link US Tax Return through 2021 to view it and our IRS Letter of 501(c)(3) Recognition